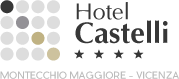 Suggestive visit to the castles that inspired Romeo and Juliet
Special tour of the castles of Montecchio at a hotel in an optimal setting
How about you set off on a tour featuring ancient castles with mysterious stories? Lose yourself in the past and let your eyes and mind wander across fascinating landscapes and territories. At Hotel Castelli in Vicenza, you can do this, as it is an excellent starting point to plunge into the story of the evocative manors behind Romeo and Juliet.


The Castello della Villa and the Castello della Bellaguardia, known to all as Romeo's Castle and Juliet's Castle, are located within easy reach of the hotel, in Montecchio Maggiore. Legend has it that the two castles were the inspiration for the famous story of the unfortunate lovers, thanks to the writings of Luigi Da Porto, who influenced the famous Shakespeare.

The two fortresses offer a very impressive view to visitors and it seems that this panorama has been the source of so much inspiration.


Take advantage of Hotel Castelli's offer now: OVERNIGHT STAY + TICKETS TO THE CASTLES, all included in the price


At the hotel you will find all the services you need for your stay: elegant and dog friendly rooms, a restaurant serving delicious menus, a car park and much more!


SPECIAL OFFER
OVERNIGHT STAY + TICKET TO THE CASTLES OF ROMEO & GIULIETTA



Contact us now and we will send you our best proposal.



Please fill out the form below to request more information:


VIEW ALL
Request information
Join our newsletter
SIGN UP TO RECEIVE A PREVIEW OF ALL OUR OFFERS.
Credits TITANKA! Spa © 2017